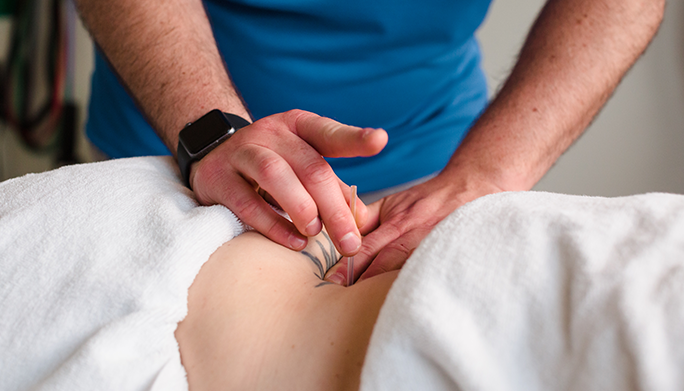 The ASTYM System allows clinicians to activate the body's natural healing capacity in patients suffering from soft tissue degeneration, fibrosis, and chronic inflammation. This non-invasive, cutting-edge treatment uses ergonomically designed tools that stimulate the tissue remodeling process.
ASTYM therapy has revolutionized soft tissue and musculoskeletal care. It eliminates the need for surgery, injections, and other invasive treatments. ASTYM uses a combination of special tools, stretches, and other techniques to treat dysfunctional tissue and tendons and stimulate the body's natural healing process. An ASTYM-certified physical therapy will help to restore the inflammatory response in the area. This inflammatory response causes blood to flow more freely into the affected area, which triggers the absorption of scar tissue as well as the remodeling or regeneration of collagen. This accelerates the healing process. The physical therapist will help new tissue grow by providing a series of carefully planned stretches that help it strengthen and become more flexible.
What Does ASTYM Do?
Trauma, surgery, immobilization, repetitive strain, and trauma can cause soft tissue adhesions or inappropriate fibrosis. The ASTYM system stimulates the breakdown and allows for functional restoration.
Recognize and break down soft tissue adhesions.
Microtrauma control causes a local inflammatory response which leads to the resorption or excess scar tissue.
Chronic tendinopathies can be treated with controlled microtrauma to stimulate the regeneration of the affected tendons.
The existing collagen is modified and new collagen is created through a series of functional activities and stretching.
What can I expect from ASTYM treatment in Raleigh?
ASTYM therapy does not require surgery, injections, or medication. The typical treatment course lasts between four and six weeks (8-10 visits). During treatment, there is usually no restriction on activity which is a refreshing change from other restrictive options. An evaluation is the first step in the ASTYM system program. The clinician will then give a 10 to 15-minute treatment that addresses the entire kinetic chain. The clinician will then prescribe a specific strengthening and stretching program that is tailored to the patient's needs. The patient experiences a rapid decrease in pain and improvement in function, which leads to high patient satisfaction and compliance.
Two stages of ASTYM Therapy: stimulation and stretching.
Stimulation: The instrument is placed on your skin and moved in the direction of the tendon, muscle, or ligament. As the instrument moves across your skin, you will feel bumps. These bumps are indicative of damaged or defective soft tissue. These bumps will disappear as your body heals. The area around your injury will become smoother, which indicates healing.
Stretching: Your therapist can give you a personalized stretching and strengthening program that will encourage your body's strength and agility in soft tissue. The stretching helps the fibers align properly in neat parallel lines. Strengthening makes them stronger.
ASTYM uses special tools to stretch soft tissue in areas where there is dysfunction. This stimulates the body to produce healthy tissue in the affected areas. This facilitates faster recovery and pain-free activities.
Who can benefit from ASTYM?
Patients who are experiencing pain or loss of motion and function following surgery, injury, cumulative trauma disorders, and chronic irritation/tendinitis may benefit from ASTYM. Some of the most effective clinical diagnoses include:
Lateral Epicondylitis
Carpal Tunnel Syndrome
Tenosynovitis in De Quervain
Trigger Finger
Joint Contractures
IT Band Syndrome
Patellar Tendinitis
Anterior Knee Pain
Shin Splints
Chronic Ankle Sprains
Plantar Fasciitis
Achilles Tendinitis
Tendinitis and Tendinopathy in Other Forms
Benefits of ASTYM in Raleigh
Multiple studies have shown that the System is effective in restoring mobility and speeding up recovery for patients suffering from cumulative trauma disorders or other soft tissue dysfunctions. These distinct benefits are evident in the vast majority of cases.
Restore activity to pre-injury levels
Maximal results in a minimum of treatments, with an emphasis on re-establishing function.
In conjunction with treatment, it is important to maintain normal activities
Reduced demand for braces, splints, or job site modifications
Reduced need for surgical intervention
Other Benefits include
A short course of treatment
(8-10 visits)
Only certified providers can provide care
You can stay active
The root cause is fixed
Restores healthy tissue
Reduces or eliminates scar tissue
Treat scarring and soft tissue restriction
Works quickly
Research-based
When other methods have failed, it works!
Get ASTYM Treatment in Raleigh
Chronic tendinopathy, stiffness of the joints and muscles, and other conditions that result from dysfunctional scar tissue (fibrosis) or post-traumatic stress syndrome, such as joint and muscle sprains or strains are just some of the issues ASTYM is available to help with. Get in touch with one of our specialists today to schedule an appointment.
Request An Appointment
Please fill out this form and
we will contact you about scheduling. -Beth S.

"Dr. Bill…….has gone further into investigating the cause of my pain than anyone else in the P.T. world has dared to attempt. His effort and the RESULTS from my 5 visits thus far are why I have taken the time to write a review.  When the results make a difference in the quality of life, with so few visits, I'm grateful 🙏I have found him and his expertise! THANK YOU and let's keep working on my goals!" -Angela K.

"Dr. Bill is very good at listening and figuring out what is best for you and your recovery. No cookie cutter plans here! Highly recommend!!"